Wipro Mass Hiring 2023 for Trainee -| B-Tech/BCA/MCA/Any-Graduate
Wipro Recruitment 2023
Wipro Mass Hiring 2023 for Trainee -| B-Tech/BCA/MCA/Any-Graduate
The detailed eligibility Criteria and application process are mentioned below.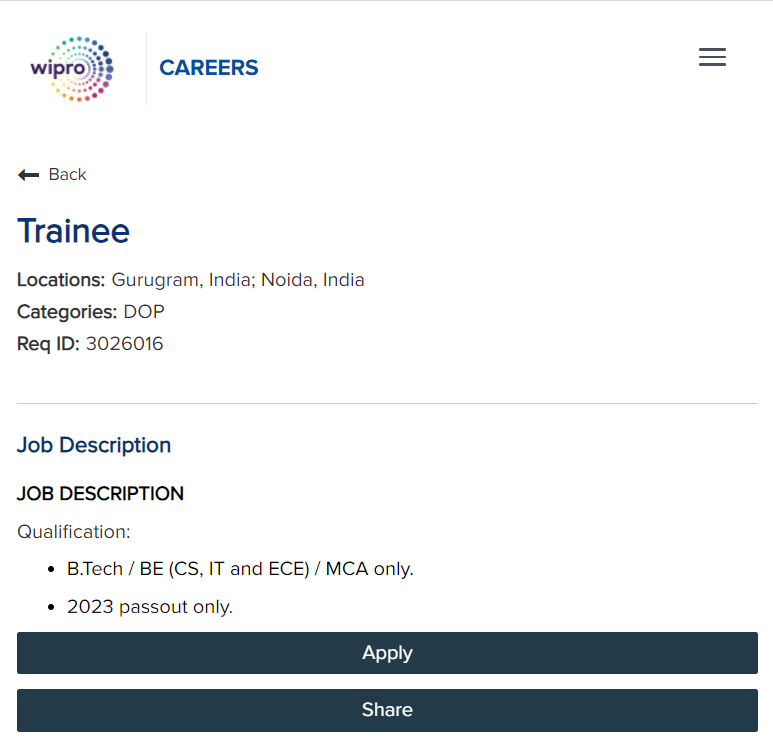 Job Description
Job Description
JOB DESCRIPTION
The Trainee is responsible for configuring and testing Wipro's proprietary Total Benefit Administration™ (TBA) System to meet the needs of our clients' requirements.
Configuring involves using proprietary systems and tools to set up and configure tables/parameters in the TBA System as defined by analysis.
Testing involves the preparation of test cases and test data and execution of test activities based on the direction from the SA.
This role is designed as an entry-level position for applicants with strong skill sets in programming (logical reasoning, analytical skills), systems configuration and testing related to systems that support human resource functions.
Roles & Responsibilities:
ROLES AND RESPONSIBILITIES
Client Knowledge and Delivery
Reviews client requirements documents and any preliminary test plans, rightly adhere to the due dates and support the client delivery priority.
Asks clarifying questions on the stated requirements, and effectively use the handoff time.
Utilizes relevant problem-solving resources as needed.
Escalates issues when appropriate.
Uses typical client requirements documentation to assist with analysis and/or test planning.
Identifies needed test cases
Completes test plans with test case needs
Configures the system to meet analysis specifications.
Documents relevant configuration in analysis specifications.
Fixes any issues identified via test execution
Ability to stress test the system
Qualifications:
Qualification:
B.Tech / BE (CS, IT and ECE) / MCA only.
2023 passout only.
Health and Welfare (HW) Tech
Health and Welfare (HW) Tech
Behavioral Aspects:
Flexible and adapt to changing priorities and deadlines.
Open to feedback and responds positively to the development opportunities
Work with global teams efficiently and have the relevant task information flowing through all channels (Mail, Lync, Timestamp, Voice call etc.)
Keen attention to detail, Resourceful problem solvers Self driven and exhibits keenness to take initiative
Join Our Social Network For Updates
Other Companies Apply Link:
How to Apply For Company Recruitment 2023 – (Please Apply before Expire date of the link)
If you are interested and eligible. You can register or apply for this Recruitment online. Please click the below link to Apply ASAP
For More Details & Apply: Noida, Gurugram
For Regular Off–Campus Job, Updates Join:- Click Here
Top Offcampus Drives. Recently going on: Click Here
😊 Thanks for visiting our Website. You will be placed soon. Best Of Luck. 👍