TCS HR Interview Questions And Answers
Hy guys. I am why are you here, Because you have an HR interview Round in TCS and you have to prepare for that. If I am saying right about your vising point. then you are at the right place. Yes. I am going to explain all the frequently asked Questions in TCS during HR Round. So before let me tell you some basic details about TCS.
About TCS:-
TCS Website:- https://www.tcs.com/
TCS is an Indian MNC (IT Services and consulting company).
HeadQuartered -> in Mumbai, Maharastra.
It is a subsidiary of Tata Group.
As of march 31,2019->424200 employees all over the world.
TCS is a fourth largest employer among listed indian companies after indian railways, indian Army and india Post.
In 2018, 31% woman employees
Revenue:- US $20.9 billion (2019) market capitalization ($80 billion)
Chairman of TCS:- Natarajan chandrase karan
CEO of TCS:- Rajesh Gopinathan/M.D.
!st CEO of TCS:- Fakir chand kohli (father of india's Software industry)
Founder of TCS:- Jamset ji Tata and F.C. kohli
TCS was founded on 1st april 1968.
Values of TCS:- Leading change, Respect for indivisual, Integrity, Excellence, Learning and sharing,
Parent company :- Tata Sons.
Location:- India(Ahmedabad, Banglore, Goa, Delhi , Noida, Pune, Chennai, Hydrabad, Kolkata, Mumbai etc)
Now you know basic details about TCS. Let us start with the list of questions frequently asked by HR in TCS Company.
List Of Frequently Asked Interview Questions.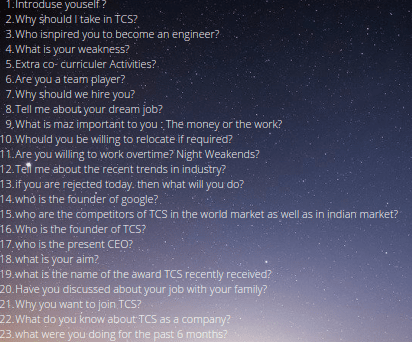 Q1. Introduce Yourself?
Tips:- Name, Educational details, like, dislike, hobbies, Awards/Achievements, Certifications, Principle/Aim.
If they ask you to introduce yourself with specific points, then you have to be to the point.
Do not stop speaking until they Ask you to stop.
Q2. Do you like to work in team or Alone?
This Question answer should always be yes. I am a team player. be sure you should have an example ready with you that shows you are a good team player.
Q3. What is More Important to you: Money of work?
This one will show you how real you are. money is always important but work is the most important.
Q4. If you are rejected today, then what will you do?
This question does not mean that they are rejecting or no longer interested in you. so do not get disheartened. Make sure that your answer should be positive.
Q5. Where you are native place is and for what it is famous?
You obviously know your native place, but it is better you also learn a few things about the place as well. to explain in front of HR.
Q6. Why TCS?
Due to the presence of numerous projects, you have the advantage of getting a chance to learn different technologies. TCS is considered a well reputed and respectful brand in our society so my parent will also feel proud that their son/ daughter is employed with a reputed and decent company.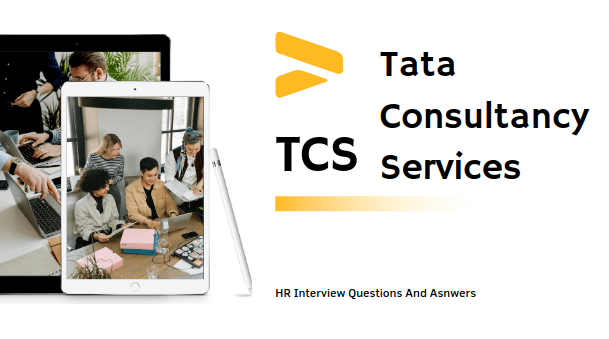 Q7. Do you have any Question for me?
Yes. For Example:- What is the company Policies regarding training. what will be the period? and if I am selected, what technologies or programming languages, I should be equipped with before joining TCS for Training.
Q8. Are You willing toreallocate?
The maximum company ask this question for location. and you should say 'Yes' because you will have to reallocate otherwise your chance to get shortlisted could be decreased.
Q9. Why should we hire?
As a fresher, I have no experience but have the ability to learn new things quickly and I Beliving in improving myself day by day is the key to my success and growth of the organization. if you provide the opportunity to me, I will be working with full efficiency and getting work done within the given period of time whether the given work is challenging or not.
I can think with peace and out of the box with much creativity and also many at times I have proven that my thinking is unique from others.
Being a positive minded and friendly person. I may work well with my team and support your employee for the good.
I am hungry to learn and want to put my skills into practice and wanted to be a part of the organisation success.
I am flexible and I do not have a complaint about shift work or working at night. I am a good learner and always cool and calm over in a tense situation. I think those qualities make me Qualified to work as an engineer.
I am disciplined trustworthy to the organisation
I have the potential to deliver good results, I am a quick learner.
I am a down earth person and take responsibility seriously.
I can handle the pressure.
Q10. Difference between Hard work and Smart Work?
| | |
| --- | --- |
| Hard Work | Smart Work |
| Work more time to get good results | Work less time to get good results |
| It gives us experience | It comes from experience |
| Spending a lot's of time | Spending less time |
| Doing a lot of things | Doing the right things |
| Old Ideas | Creative Ideas |
11. Why not opt for higher Studies?
You can tell about your situation like I am the only one who is supporting my family. Don't tell him about your future plan for higher studies even If you have any plan for that it will be a bad impression.
12. Tell me 2 reasons why we should not hire you?
You should not hire me if you only wark people who work from 9 to 5 who never put in the extra effort. I would like to work for a company that needs and appreciates hard work.
13. Services provided By TCS?
Analytics, Automation & AR. Cloud Applications, Cloud infrastructure, cognitive Business, Consulting, Cyber Security, Engineering, TCS Infrastructure, IoT, Quality Engineering.
14. Do you know for what reasons TCS was in news recently?
Visit the Tcs newsroom page:- https://www.tcs.com/newsroom Here on this page you will get knowledge about News, Press Releases and Analyst Reports.
Q15. Ready for the night Shift?
Depends on you. But if you say 'yes' then it will be a good impression.
Conclusion:-
we understand all the basic details of Tata consultancy services. And then we picked the top 14 frequently asked questions in TCS HR Round and understand that "how to give a better answer for every particular Question". As everyone knows HR round is not the toughest round if you have been cleared of the written test and Technical round. you can clear the HR round easily but without practice, it could be difficult to clear. in this round, HR will ask you all questions related to your education, location, salary, thinking, honesty and behaviour. It will be your last round of interviews after this round you will have to verify your documents and then you can join the company.