Tell me about yourself for fresher|| Interview Question And Answer
Hello freshers, hope you all are good. If you are searching for interview questions like "Tell me about yourself". This is awesome, you are on a perfect blog. Maybe you are a student or professional and you are preparing for interviews. So, the first question that strikes every professional's mind is "Tell me about yourself". And you also very well know that in every interview, mostly recruiters asked this question. Because this question makes the first impression in recruiters' minds. Before we dive into this topic, one more thing I want to say to you after reading this precious blog, everything will be crystal clear in your mind and you will have an exact idea of how to give an answer to this question beautifully.
Suppose, your interview day is finally here!
Once you are ready for the interview, take a deep breath and go through all your experiences and choose the one which you can highlight in your interview.
Interviewers can ask this question "Tell me about yourself" in different ways like " Describe yourself", "Give me your introduction", and as well.
Prepare yourself for this question at your home or where you live. This is my personal advice to you: stand in front of the mirror and take your interview by yourself and see your expressions, how you are responding, observe your gestures and posture. Nervousness, confidence. Observe everything and practice this activity before any interview. I am damn sure, after practising, you will master this question.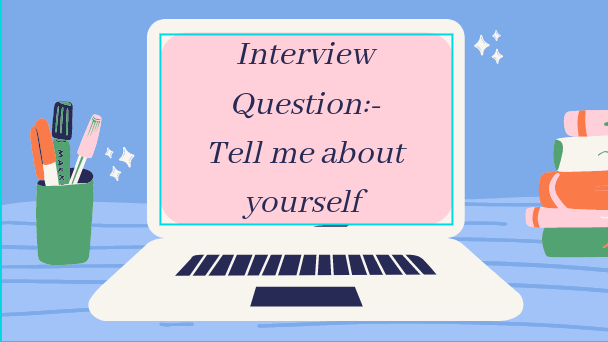 There are a few points that you need to remember in this question: "Tell me about yourself".
Tell your personal strengths with genuine examples.
Don't summarise your resume line by line because it gives a bad impact on recruiters.
Focus on your potential and outcomes that you can quantify.
Don't share your family information like childrens, marital status, family condition, political reviews or religious views.
Highlight your achievements that match a particular job.
You can also highlight your skills.
Highlight your past experiences according to the requirement of a particular job role.
How to get started: Tell me about yourself
If you go to the interview with full preparation then this question is not a big deal for you. I am pretty sure you will handle this question very smartly. But when you go to the interview without preparation then it may be difficult for you: how to get started on this question and what I have to include or exclude? I am not saying that you can not handle, yes you can handle or maybe you are a potential candidate who has the quality of handling questions. But when you go with preparation, you have confidence and "CONFIDENCE" is a power of every human being, from this power you can handle even difficult questions as well. Here are some questions that are also lined with this question.
What qualities make you suitable for the position?
Think about what makes you special as a job applicant for this role. If you have some previous experience regarding a particular job description then it will be a plus point for you. But if you are a fresher then you need to spotlight your achievements, skills or any experience in the form of training or internship. But make sure before telling, think once these things are matching properly or not. These things will surely stand you out from the crowd.
Why are you interested in this role?
Answer this question wisely because this question can make or break your interview. You can answer this question like: this is a field in which I want to make my career or relate your prior experiences to this job description.
Why are you interested in this company?
Before going to the interview, you must read about the company in which you are going to give the interview. Read carefully about the company including mission, vision, goals, etc. And note a particular thing that excites you towards this company in which you are applying. Whenever you answer this question in front of the recruiter, align your future goals according to this company or you can say that the company's trend feels exciting.
Ask yourself? What is a positive attribute that serves me well in this role?
Ask yourself this question and analyze your traits or characters that fits you in a specific job role. Think about what your friends or colleagues are seeing you. I am going to give you some examples like your friends or colleagues or batchmates described you as curious, organised, entrepreneurial, and as well
Examples:Tell me about yourself .
My name is Shweta raghuwanshi. I am from Chennai. I have completed my Bachelor of Technology in Electrical Engineering. I got a B. tech Honors degree with 81% aggregate. I am a self-starter with robust interpersonal skills. I am able to contribute individually and also in a team. I have the potential to face different types of challenges and I can find creative solutions to any of the problems. Besides the details given in my resume, I believe in hard work, vision, values, actions, character, and as well. I am a quick learner and I always learn from my mistakes and the best quality I have: I never repeat the same mistake. I can do more productivity in less time.
Firstly, thanks for giving me this chance to speak. I am Sakshi Saigal, completed my graduation from one of the most reputed colleges in Jharkhand. I have a strong belief in myself and I have good catching power. I am a hardworking girl. I also got some certificates and excelled in my knowledge in this field. My strengths are self-confidence and patience. My short term goal is to contribute to an organization where I will utilize my knowledge and explore my skills. My long term goal is: to make myself better in this field and master my skills. So, no one can beat me. And one more thing I will work with full of my dedication and support.