Human Resource Planning||Working Process Of Human Resource
Hello people, hope you all are amazing. If you are here then obviously you are searching for information about human resource planning. If you want to become an entrepreneur or a business or you want to start a small business or start-up then you must have knowledge of human resource planning. The idea is the main characteristic to start any type of business but as similar as human resource planning is also a crucial part of each organisation. No matter the organisation is big or small.
Structured planning for your company's growth consists the plans for sustaining the quality employees, forecasting the requirements for upcoming staff in an organisation, hiring skilled persons, There are several tasks that are planned in human resource planning includes to assign tasks to employees according to their abilities, and ensures that they are satisfied from their work role or not and make the strategies that favour employees benefits as well beneficial for company's growth.
In this article, I am going to share with you the most precious knowledge about human resource planning including how human resource planning is essential to run a business and what are tools are required for developing and executing the plans.
Understanding Human Resource Planning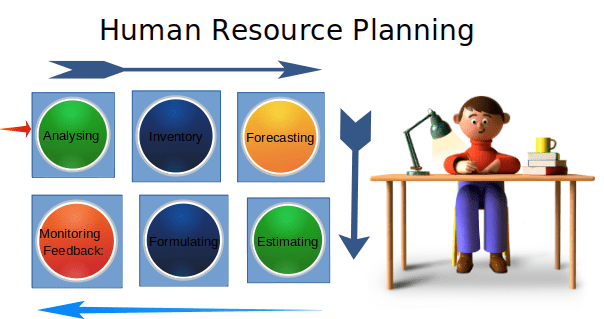 Human resource planning examined all the activities that are going on in an organisation and keeps in mind several things such as recruiting high skilled talented people, providing training to newly hired people and also for who will be hired in future, and also evaluating the requirements of all the employees. It maintains a healthy relationship between all the employees. So that a company can reach their goal in a short period of time. These are all responsibilities operated by the human resource department. This planning helps the company in order to examine what are the things going on smoothly and what are the things that need any kind of improvement.
Why human resource planning is important?
Recruiting high-quality people is essential for increasing the productivity of the company. With the help of human resource planning, you make present and upcoming hiring decisions according to the requirements of the company.
There are some benefits of human resource planning include:
It reviews the skills and abilities of existing employees
With human resource planning, you can scale the skills and capabilities and examine the performance of each professional whether they require additional training or they are performing their tasks adequately. You can also promote some previously working candidates who are performing their duties well. You can assign them some additional responsibilities. By doing this, you can save your time because if you go to hire a new candidate then you have to spend some time in recruiting the perfect candidate that matches the work duties. And you also have to train his/her after selecting. And he/she will definitely take some time in indulging the job responsibilities. If you promote existing candidates then your time, energy, and money will save.
It anticipates and optimizes the growth of the industry
Human resource planning helps your company to adapt to the rapid modifications and developments that take place in the industry. You can examine whether you will need to plan and budget for new roles within your company to handle business tasks in new marketing areas. This type of organisation will enable your organisation to expand for a long period of time.
It allows to stay company competitive
If you want to stay your company competitive in the market then you should hire the right candidates who are passionate about their work role and who will work for a long time for your company. Human resource planning helps you to ensure that you are using the right techniques for hiring and training employees. One most important factor is matter in this case if you provide decent training and incentives, bonuses, remuneration and a perfect life balance then your employees attract towards your company or you can say they will emotionally be attached and they will spend years of their life in your organisation.
It ensures the company's long term growth
It is essential to analyze how your company deals with inevitable changes that will happen in future. For example, you can decide to expand or shrink your business according to the changes in the requirements of employees and what are the expectations of employees. If you want to sustain good quality people for a long period of time then you need to give a continuous healthy work environment and offer them incentives based on their performance. If you don't give value to your employees then they will change the company. Because employees stay in a company due to the company work environment and salary. If you get profit in your business then share some percentage of profit with your employees because they literally worked hard for your company.
Key steps in human resource planning
By analyzing the company's objective you will be able to examine which type and how much work you need to do. You need to set the goals for the company's growth and also analyze the marketing criteria and sales. You also need to review business and finance expansion plans.
It will help in an inventory of your current employees and analyze their contribution to your organisation. Collect all the information of all your employees like work performance, is they meet deadlines or not, they require some additional training, whom you want to promote on a higher position, whom you want to fire, etc. In this manner, you can evaluate the overall performance of all your employees. You can analyze how many candidates you should have to hire for your company and what will be the criteria. Whenever you gather all information then you can decide what you want to do next year and what will be the ways to achieve your goals in a short period of time and which type of team you want.