Why should you be hired for this internship?|HR Interview Question And Answer
Hello freshers/students, hope you all are wonderful. If you are looking at it on my website then obviously you are searching for the answers to the question "Why should you be hired for this internship". Maybe you are a fresher who has completed his Graduation/Post Graduation or maybe you are in the last of your Bachelors' and you are looking for an opportunity like an internship, part-time job, Full-time job where you will give a job interview. And of course, if you go for an interview looking for employment then you have to be prepared yourself. There are plenty of similar questions which the interviewer asked to most of the students such as "Tell me about yourself for freshers", "Self Introduction", "Why do you want to join our company", "Why should you be hired for this internship", and many more. But I am going to cover "Why should you be hired for this internship" with some valuable examples.
Don't worry at all, you are on an awesome place and I am going to share with you the best and superb answers to this question. And I will also tell you how you can give your best answer to the interviewer and get the job in your hand.
Do you know why recruiters asked this question to all of the interviewees? Because they want to find eligible and credible persons. These are simple questions but to give an answer to these types of questions is very tricky. Most of the time, candidates lose interest in the interview by giving them the wrong answer. Many of the students take too much time in thinking of a suitable answer and therefore reject the job.
Always remember one thing, whenever you give an answer to any of the questions to the interviewer, never lose your confidence. Because they observe every person every second. This means every second of the interview is judged by the interviewers. Just give a reliable answer to this question.
As you know very well, the first impression is the last. Maybe the interviewer will ask you this question first then you should have to give a unique answer to this question so you can tell them about the projects that you have done during your graduation. And I am going to give some prominent examples of this question, how you can answer.
Become A Frontend Developer And Get A Decent Job:- Click Here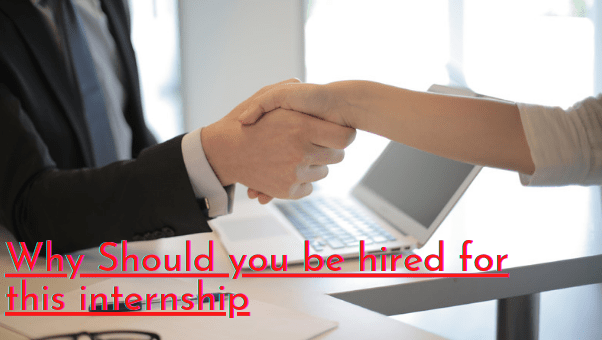 Way of giving answer to this question "Why should you be hired for this internship"
Currently, I am going to complete my last semester of Graduation at College. In the four years of my Graduation, we have been taught a lot. But practical application of my knowledge will help me to know how much I have really learned. Joining your firm will show where I stand. I can't have a better chance than this. Here, I can showcase my talent and prove my skills, while in return, I can learn how this industry works inside and out. So you can hire me for this internship.
I am a patient learner and also have good grasping power. I have the ability to learn things quickly and be productive in less time. I can also be of great help when it comes to thinking and showing creativity. Also, there was a paper in my graduation in which we had to do project work related to your industry. Therefore, what I have learned from my past experiences like internships, industry visits that all are matches to this job requirements. I have basic knowledge in this field and no need to start from scratch. So, at the end of the day, you might want to choose me as one of the finalists.
I am the type of person who gives 100% in anything that I am involved in, be it research work, project work, independent project or something as simple as writing a poem. I think I will be well planned for this internship because I got enrolled in a course that is similar to this internship. Whenever I do any task then nothing can disturb me. My friends say that I am a determined person towards my work. Besides this, I believe in myself and have the courage to do something innovative. Whenever I face any issue in my task then I don't hesitate to take help from someone. These all are the characters that make me a good candidate for this opportunity.
I am a good reader and writer. I have the ability to read the content carefully in less time and analyze content and I am also able to create unique and high quality content for websites. I have created my own personal blog from scratch and the most important thing is that earlier I didn't have any idea how to build up a website. But I have worked hard and learned by myself and now I have designed my website so beautifully. I am a good learner and have the ability to do work on my own. My best quality is that if I am doing something and that thing is not happening by myself then I don't ask from someone immediately until I put my 100% in doing that particular task. I have shared my content to my friends, family, and on social media and I got positive and mindblowing reviews that encourage me to do better.
Conclusion
Now you have gone through all the information mentioned above and you very well know that this is the mandatory question that most recruiters ask the interviewee. Don't worry, you got the ways to answer this question and even I have shared some precious sample answers with you, that will surely help you. Be prepared for your interview and practice the most asked questions such as tell me about yourself, self-introduction, why do you want to join our organization. And the most important question that I have covered in this blog is why should you be hired for this internship. All the best to all of you guys and let me know in the comment section how this amazing blog will help in practising this tricky question.